There is more to do when you go fishing with us at Elephant Butte.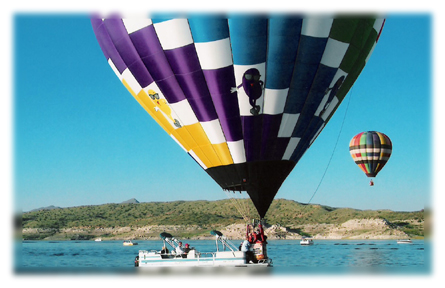 Events At Elephant Butte
Fireworks Extravaganza on the Lake the Saturday nearest July 4th.
Balloon Regatta the 2nd weekend in September.
Elephant Days September 22nd.
Luminario beach walk Festival/City of Lights the 2nd weekend in December (575) 744-4708
Elephant Butte Lake State Park offers boating Safety and educational programs for adults and children. (575) 744-5421

Hot Mineral Springs/Baths
Golf
Sierra Del Rio Golf Course – A Distinctive New Resort Community in Elephant Butte. Sierra Del Rio Golf Course, 18 Hole Championship daily fee facility and restaurant.
Turtleback Mountain
(575) 744-5135
Municipal Golf Course (T or C)
(575) 894-2603
Marinas


( Jet ski, Houseboat, pleasure boat rentals, slip rentals, fuel, snacks)
Restaurants
La Cocina Hot Stuff Mexican Steakhouse
(575) 894-6499
Los Arcos Steak & Lobster
(575) 894-6200
Ivory Tusk Restaurant/Tavern Steaks, Seafood & Pasta
(575) 744-5431
Dam Site Bar & Restaurant American & Mexican Food. The only restaurant on the Lake.
(575) 894-2073
La Piñata Mexican Food "Home Style"
(575) 894-9047
Sierra Grande Lodge Fine Dining
(575) 894-6976
Cafe Bellaluca
www.cafebellaluca.com
Historic Mining Towns
Hillsboro: Old Mining Town dating from the 1800's . A well known community of writers, artists, ranchers and miners. Events: Apple Festival on Labor Day Weekend. Christmas in the Foothills the 1st Saturday of December. Concerts in Community Center throughout the Season. (575) 895-5603
37 miles from Elephant Butte.

Kingston: Once the Largest boom town in New Mexico. Quiet Village nested in the Black Range Mountains. It attracts hikers, photographers and landscape painters. Hiking, mountain biking and camping in the Gila National Forest are popular. (575) 895-5652
46 miles from Elephant Butte
Winston /Chloride: Adjacent old towns that share a history of mining and ranching. Winston has a general store, bar, care and post office. Chloride is a major gateway to the Gila National Forest. Old pioneer store has been restored into museum and has an adjacent R.V. Park. (575) 743-2736.
40 miles from Elephant Butte.
Cuchillo: Settled in the 1850's, became a stagecoach stop and resting place for travelers during the late 1800's. Events: Pecan Festival the 4th Saturday in February. (575) 743-3201.
18 Miles from Elephant Butte
Frank Vilorio is the top rated Fishing Guide at Elephant Butte Lake with more than 15 years experience as a full time professional guide. The Elephant Butte fishing guide will give you instructions on how to be successful on catching Stripers and White Bass on fresh live Shad and productive lures. Elephant Butte fishing trips are available year round at New Mexico's largest warm water fishery. In the winter months, Elephant Butte Lake produces big Stripers in deep water. Charter fishing trips on Elephant Butte Lake can be tapered to your needs; morning, afternoon and evening trips. Night fishing trips for Stripers and White Bass can be arranged in summer months. On certain times of the year, depending on water temperature Stripers and White Bass will hit on top or sub-surface lures. New Mexico fishing is "tops" in the West. Elephant Butte fishing trips are very productive in summer months for Stripers and White Bass using slabs and spoons. Elephant Butte fishing guides will provide fishing boat, rods and reels, fresh live bait and their expertise on New Mexico's best sport fishing Lake. Fisherman only needs to bring their fishing license, a cooler with food and drinks, appropriate clothing and a positive attitude. Elephant Butte fishing guides will work hard to make sure that you have a successful trip fishing Elephant Butte Lake. New Mexico fishing guides have to be licensed and bonded. Elephant Butte fishing trips will be a memorable experience with friends or family members. Elephant Butte Striper fishing can be as Hot as New Mexico's Hatch Chile! Contact Frank for an Adventurous New Mexico fishing trip on Elephant Butte Lake.
Please contact Frank Vilorio at 1-800-580-8992 or via e-mail @ frankvilorio@sbcglobal.net. You could also visit his website @ www.stripersnewmexico.com.