White and Striped Bass Fishing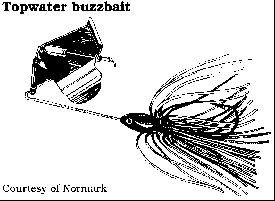 Watch the action of gulls or other fish-eating birds at a reservoir. Check out where they're surface feeding on small fish. Where gulls are feeding, there will be schools of white bass as well. Try 'jump fishing': get to the action area quickly, throttle back upwind, shut off the motor, and drift down through surfacing fish.

Once you make a catch at a school of surface-feeding bass, try again and again. Such feeding eruptions last only a short time, usually in late afternoon or early morning, especially in late summer and early fall.

Medium-to-light action spinning and bait-casting gear are good choices for white bass fishing.

Best times to fish for stripers and white bass: daytime from late fall through early spring; late evening through first light in summer.

Use jigs or crank baits in spring and summer, baitfish in fall, using a heavy rod and line. Live shad is a good, all-around bait.

Striped bass that are near structure (submerged trees, formations) seem to be more active and willing to bite – than stripers that are suspended in mid-depths.

To catch more than one bass at a time, place two or more reflective lures simultaneously on your line at 1 S-inch intervals. Try jigs or jigging spoons.

In reservoirs, look for riprap on shore-lines, rocky points, just off islands, sudden drop-offs, old river channels or sand bars. In rivers, check out places where streams enter, bridge pilings disrupt current flow, above wing dams, or downstream from a lock and dam.

Use a depth finder to locate schools of bass. They prefer sandy or gravel lake bottoms. No matter where you find them, they aren't going to stay in one place long.